Event start date:
Date: -
Protecting and restoring the natural world is a powerful solution to the climate crisis. Wetlands – mangroves, marshes, peatlands, and seagrass beds – play a vital role in carbon storage. Mangroves can store up to 10 times more carbon than terrestrial forests. Peatlands, although only occupying 3% of the global land area, contain 25% of global soil carbon — twice as much as the world's forests. And wetlands are home to 40% of the world's biodiversity, absorb and store excess water, buffer against extreme weather events, and reduce the risk of soil erosion.
That's why Wetlands International UNFCCC COP28 in Dubai.
What we need now is urgent action. Governments, businesses, and civil society must collaborate to scale up the safeguarding and restoration of wetland ecosystems, as well as tackle the drivers that destroy wetlands. With the conclusion of the first Global Stocktake at COP28, wetland actions need to increasingly be included in Nationally Determined Contributions, as well as in national adaptation and disaster risk reduction plans. Improving the protection, management and restoration of wetlands is critical to our collective well-being and to protecting our planet.
Mangrove Breakthrough
The Mangrove Breakthrough is a science-based, measurable, and achievable goal for non-state actors and governments to collectively restore and protect mangroves at the scale needed to secure their future. Launched by The Global Mangrove Alliance in collaboration with the UN Climate Change High-level Champions, it aims to secure the future of 15 million hectares of mangroves globally by 2030 through collective action on:  
Halting mangrove losses.
Restoring half of recent mangrove losses.
Doubling the protection of mangroves globally.
Ensuring sustainable long-term finance by securing a USD 4 billion investment by 2030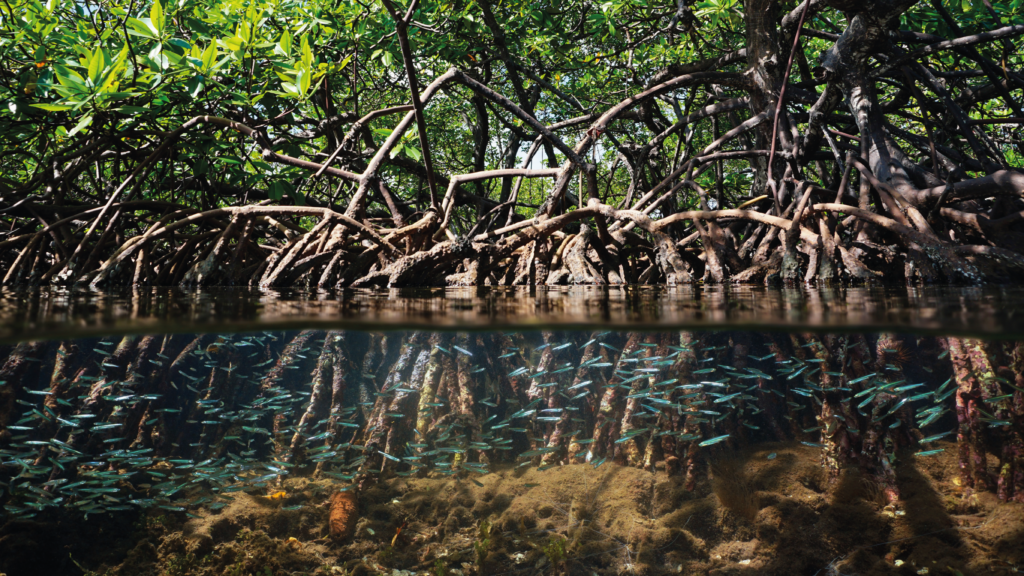 The Freshwater Challenge
Healthy freshwater habitats provide vital ecosystem services for people and nature. They are critical to mitigating and adapting to climate change, and achieving the Sustainable Development Goals. To restore degraded rivers, lakes and wetlands, and halt their rapid loss, a coalition of governments have launched the Freshwater Challenge (FWC) – a country-led initiative that aims to support, integrate and accelerate the restoration of 300,000 km of degraded rivers and 350 million hectares of degraded wetlands by 2030, as well as conserve intact freshwater ecosystems.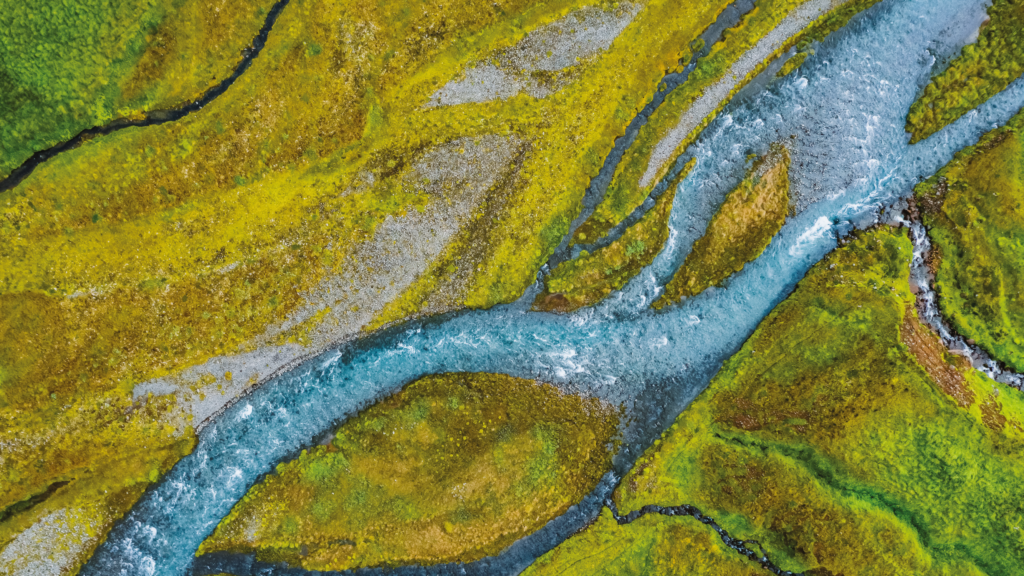 Our Sessions
In addition to our sessions below, you can find Wetlands International at the Water for Climate Pavilion in the Blue Zone.
Friday, 1 Dec 11:00-12:00 at the Nature-Positive Pavilion: Renowned experts and officials will convene at the COP28 Climate-Forward Ocean Conservation Strategies event to discuss the Mangrove and Coral Reef Breakthroughs within the broader context of international agreements, as well as strategies to bolster the resilience of marine biodiversity.
Monday, 4 Dec 08:30-09:30 at the Nature-Positive Pavilion: This event will feature the launch of the Mangrove Breakthrough Financial Roadmap. Co-developed with investors, experts and practitioners, the Roadmap provides actionable recommendations for scaling mangrove-positive business models and developing innovative financial instruments to accelerate investment in mangroves.
Wetlands in montane areas: climate risks and solutions
Wednesday 6 Dec 9:00 – 10:30 at the Azerbaijan Pavilion: The event aims to emphasize on sharing experiences that can strengthen inventory, assessment, management and restoration of wetlands in arid and montane areas, towards increasingly harnessing them in achieving conservation, climate change, and land degradation targets.
Friday, 8 Dec 15:00-16:30 in Room 6: The role of peatlands as nature-based solutions (NBS) is recognised as an integral part of reaching the 1.5-degree target of the Paris Climate Agreement. Facing the Global Stocktake at COP28, this event will focus on the potential of scaling up peatland action and how to overcome the obstacles ahead.
Young Changemakers: From Advocacy to Ecosystems – Crafting Holistic Solutions for Systemic Change
Friday, 8 Dec 10:00-10:45 at the Colombia Pavilion
Mangrove Breakthrough & Coral Reef Breakthrough Event
Friday, 8 Dec 15:00-16:30 at the Ocean Pavilion (this is a virtual event)
Saturday, 9 Dec 10:00-11:30: This event seeks to highlight the interlinkages between agriculture and nature, showcase examples of action to reduce the impact of agriculture on nature and highlight both the pathway and challenges ahead.
Saturday, 9 Dec 12:30-14:00 at the Connect Conference Auditorium
Global Mangrove Alliance: Accelerating Action and Financing for Nature-Based Solutions
Saturday, 9 Dec 14:30-15:30 at the Philippines Pavilion
Saturday, 9 Dec 15:45 at the Water Pavilion
Taking stock of Climate Action on Water: "Hydrating Climate Action"
Sunday, 10 Dec 10:00-11:00 in GCA Action, Zone Amphitheatre 1: The event will showcase recent signals of progress in water for climate across the globe.
Mangroves as nature-based solutions to address climate change: local action for global ambition
Sunday, 10 Dec 12:40-14:30 at the Azerbaijani Pavilion and online: Transboundary basins are home for Wetlands of International Importance (Ramsar Sites). This side event will provide an occasion for decision-makers and experts to share experiences, lessons learned and best practices in wetland restoration and conservation to reduce water scarcity and drought risk in transboundary basins.
Mangroves as nature-based solutions to address climate change: local action for global ambition
Sunday, 10 Dec 13:00-14:30 at the Panama Pavilion: In this event, the panellists representing three regions (Africa, Asia, and Latin America) will present how their experience has been in positioning mangroves on national and regional agendas including notes on The Mangroves Breakthrough and the Global Alliance for Mangroves.
Sunday, 10 Dec 16:00-17:30: The ministerial roundtable on the Freshwater Challenge will announce new country signatories and their commitments to protecting and restoring freshwater ecosystems, which are essential to mitigating and adapting to climate change and currently the most degraded type of ecosystem worldwide.
Resources
Media
Wetlands hold answers to climate mitigation, adaptation
News
Financial roadmap for mangrove protection and restoration launched
Legal And Policy Recommendations To Support International Mangrove Targets
Kunming-Montreal Global Biodiversity Framework: Upscaling wetland conservation, restoration and wise use through National Biodiversity Strategies and Action Plans (NBSAPs)
Additional Resources
Coastal and marine ecosystems as Nature-based Solutions in new or updated Nationally Determined Contributions
Mangrove restoration: the latest best-practice approaches
Peatlands – a solution to transform our food systems
Technical Report : Wetlands and Methane
Briefing on lithium mining in the Andes of South America: No to water mega-mining
Social media toolkit
A trello board where you can download our social media cards, captions and key messages showcasing the vital role that wetlands play. Show your support and tag us in your posts! Click here to access the toolkit.\
Learn about the Freshwater Challenge
Contact
Arin de Hoog
Senior Communications Manager
Please reach out to Arin for any media-related inquiries including quotes, interviews and sound bites. Our experts at COP can comment on The Mangrove Breakthrough, The Freshwater Challenge, the Water, Peace and Security partnership, and more broadly on the intersection between wetland restoration and the climate, biodiversity, and water crises.